Even the Losers Get Lucky Sometimes
March 26, 2006
Books of Style
By LIESL SCHILLINGER
FIRED! Tales of the Canned, Canceled, Downsized and Dismissed
By Annabelle Gurwitch.
238 pp., Touchstone. $19.95.
QUEEN OF THE ODDBALLS: AND OTHER TRUE STORIES FROM A LIFE UNACCORDING TO PLAN
By Hillary Carlip.
288 pp., HarperCollins. $13.95.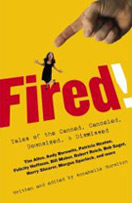 THE actress and writer Annabelle Gurwitch has done much to get a laugh. She ate a sandwich while topless on HBO, hiccupped for five minutes straight while hopping on one leg on a sitcom, did a television commercial with Carrot Top and currently is being upstaged by a sheep dog in a Disney film remake. But her star comic turn came by accident when she was fired in 2003 by Woody Allen, her idol, from "Writer's Block," his pair of one-act comedies. He told her, "What you're doing is terrible, none of it good, all of it bad, don't ever do that again." He added, "You look retarded."

Upon telling this tale of woe to her pals in show business, Ms. Gurwitch learned that there was dramatic gold in the pink slip. She found out that Illeana Douglas had been judged incompetent to work at a coat check counter, that Bob Saget had discovered his spot on a CBS morning show was gone when he arrived at work to find his chair had been removed, and that Rainn Wilson, who plays the creepy Dwight on "The Office," was once canned by a boss who told him he wanted an employee who would say, "How high?" when ordered to "Jump!" This was at an organization for sufferers of multiple sclerosis, many of whom traversed the building in motorized chairs that did not have a "jump" feature.

Ms. Gurwitch created a series of literary events for the stage and for National Public Radio to present her growing supply of hard-luck stories. The pick of the kicked have been gathered in "Fired! Tales of the Canned, Canceled Downsized and Dismissed," and are interspersed with scathing factoids about The Man.

They include, "Increased risk of heart attack faced by employer firing an employee in the week after giving the ax: 100 percent." The book shows that sometimes the best revenge is losing well. A documentary based on the book just played at the Aspen Comedy Festival, and Ms. Gurwitch is seeking new stories on firedbyannabellegurwitch.com, her Web site where she reassures the joblorn, "Someone more clever than I said, 'It's not the bounce that counts, it's the bounce back.' "

Hillary Carlip is one of the collection's lucky losers. As a teenager in Los Angeles in the 70's, she lost her job as a fire eater at a Sunset Strip nightclub. In a letter to her boss (included in "Fired!") she writes, "Look, I've been eating fire for over a year now, and I have never had a problem." Swigging kerosene and expelling it into a flaming torch, creating a "crowd-pleasing ball of fire," were second nature to her, she explained.

Was it her fault if some moron had turned on the ceiling fan, "causing the fireball that I blew toward the audience to be blown right back into my face?" Excuses, excuses. She apologized to the audience and found other work.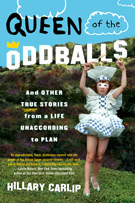 In her appealing memoir, "Queen of the Oddballs: And Other True Stories from a Life Unaccording to Plan," Ms. Carlip revisits some of these jobs.

Her curriculum vitae reads like a Cliffs Notes version of American popular culture, 1965 to present: volunteer for the McGovern presidential campaign; juggling coach to J. J. Walker ("Dy-no-mite"), winning contestant on "The Gong Show," singing telegram deliverer ("at least I'm not waitressing"), dancer in Olivia Newton-John's "Xanadu," band member in "Angel and the Reruns" (they played in the Tom Hanks film "Bachelor Party") and author of "Girl Power: Young Women Speak Out," a youth empowerment book that made it onto Oprah.

Although Ms. Carlip herself did not appear onstage, she did get a "white ceramic coffee mug signed 'Thanks, Oprah' in teal glaze." And then she created a Web site for essays, FreshYarn.com, where women (and men) of all ages write.

At age 8, Ms. Carlip writes, "I took on different personas the way other kids tried on clothes." She took the same mix-and-match approach to careers; and since Paul Reubens (Pee-wee Herman) declares this history "mandatory reading for anybody contemplating fabulousness," maybe a steady job, at least one in fire eating, was never such a good idea in the first place.