VIDEO
Are you ready?? My original, UNCUT segment from The Gong Show!!!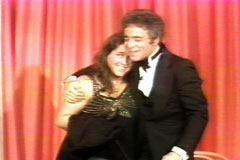 Some excerpts of me teaching Ellen how to eat fire!

"I've done a lot of oddball things in my life..."

Adventures of a Teenage Woman Juggler

Angel and the Reruns!
The infamous, all-girl/all-ex con band
All videos are played with the latest Flash 8 player. If you go to a page and the video doesn't automatically start playing, you'll need to download Flash 8. It only takes a few seconds and is free. And it's WORTH IT! You'll be able to watch so many videos on so many sites. GO FOR IT!
An NBC TV station in San Francisco started featuring on-air book reviews. For the first episode, Queen of the Oddballs was one of the selections, and got a rave review! Watch the video -- Q of the O is a few books in so be patient! =)
Go watch the on-air review NOW!
Expanded Books is an awesome thang. They do video interviews with authors, and help promote awareness about books by streaming the videos from their own site as well as Yahoo, MSN, iTunes, Google Video, etc. Check out the vid they made for Queen of the Oddballs!
AUDIO

** NEW ** PSYCHJOURNEY PODCASTS
Another fun-filled interview -- this one really interesting because it asked more probing Psychjourney-ish type questions. Almost an hour interview, CHECK IT OUT!

FEAST OF FOOLS PODCAST
I did a one-hour interview with the brilliant Fausto Fernos and Marc Felion, and their hugely popular, award-winning podcast called FEAST OF FOOLS. Go listen to it! And stay tuned to them -- they feature fabulous interviews! (And some of their past interviews in their archives include Margret Cho, Kathy Griffin, etc.) (But excuse the SCARY pic of me!)

TRAILER TALK
The brilliant Sabrina Artel does interviews from the kitchen table of her Bee-Line trailer!! Check out her site, so you can find out more, and be sure to view the awesome clip of a CNN news story all about her. Oh, and CLICK HERE to listen to my interview with her!

FOOD FOR THOUGHT
When I was appearing at the South Dakota Book Festival, I did an interview with the NPR station there, LIVE from a Barnes and Noble with an audience of peeps there. Very fun.

BAT SEGUNDO
A great podcast show by Edward Champion that features a lot of fantastic authors. Oh and me, too! =) I spoke with him for some time when I was in San Francisco on a leg o' my tour.

WBAA
One of the several hundred interviews I did. This one just happens to be online, I recently discovered. And I LOVE the sound of the cool male DJ voice.
Check out my band, Angel and the Reruns, who had a cult hit song in the '80s called "Buffy Come Back."
AND GET OUR NEW CD
JUST RELEASED!!
Featuring 11, count 'em, ELEVEN songs!!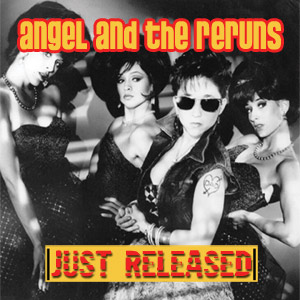 OR LISTEN AND BUY TRACKS HERE AND NOW!

And here's our hit song, "Buffy Come Back." For you. For free.