STRANGE CELEBRITY
Hillary Carlip is Queen of the Oddballs
July 18, 2006
By Andrew Harmon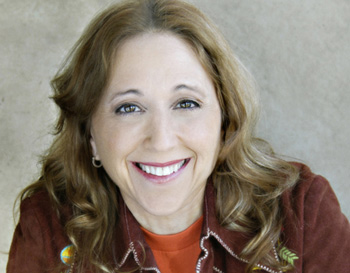 IF YOU PAID CLOSE ATTENTION TO THE '70S AND '80S, there's a good chance that Hillary Carlip's face is still lodged in a neuron or two of your brain. Pass her in the frozen foods aisle at Whole Foods and you inexplicably think of The Gong Show. Sit next to her at the Hollywood Bowl and your thoughts drift from a Mahler symphony to Tom Hanks' Bachelor Party.
No, you haven't gone crazy. Carlip received the first perfect ten from Gong Show judge Rex Reed for her juggling act to the tune of "I Really Get a Kick When He's Around." And in Hanks' 1984 flick, Hillary's real-life "all-girl, ex-con" band Angel and the Reruns entertained a randy crowd with their cult hit "Buffy Come Back," a punk tribute to Anissa Jones, the cherubic star of Family Affair who later died of a drug overdose.
Carlip has spent a lifetime flirting with quasi-celebrity. It was her peculiar search for identity and her refusal to ever work a straight job that led Carlip into Hollywood circles, not the traditional route of nudging up to packs of hot actors at the Tropicana. As a singing telegram messenger, she was hired by Cher to perform at Chastity Bono's 11th birthday party (a surly Chas was reportedly not amused). Carly Simon and Carole King swooned over the homemade banana bread that a teenage Hillary would bake and hand-deliver at shows. The nightclub finale scene in Xanadu -- the very picture of absurdity -- features Carlip, front and center, juggling in mime's garb.
"What do you do when you feel so invisible you can't sleep without a light on, afraid that in the dark you just might vanish entirely?" she writes in her new memoir Queen of the Oddballs (HarperCollins, $13.95). "Simple. Become someone interesting enough to be noticed."
Through 18 poignant essays, Carlip records her adventures, beginning at age eight with her send-up of Holly Golightly on the playground of Bel-Air's Bellagio Road Elementary School. The performance, complete with her mother's elbow-length gloves and a few puffs on a pilfered cigarette, sent her straight to the principal's office and several sessions with a child psychologist. Only later was her dramatic chutzpah rewarded, when the school faculty nominated her to appear as a kid guest on Art Linkletter's House Party.
"I felt like I had stories to tell that would not only be entertaining. but also hopefully move and inspire people to live life fully," says Carlip of her new book. Meeting her for the first time, you can almost picture the buoyant teenager she was in the '70s, with a Joni Mitchell album in one hand and a bottle of Dr Pepper in the other. She is small, her eyes youthful and warm and her voice emphatic and spilling forth with exclamation points. Armed with felt-tip markers in alarming fluorescent shades, Carlip scribbles ideas and thoughts into a worn journal, something she's done every day since 1979. She is quite possibly the only person in the world who can type an e-mail in all caps without annoying its recipient.
Amid tales of eating fire on Los Angeles street corners, Carlip recounts her own zany and heartbreaking love stories. At one moment, she is ferociously making out with a leggy Xanadu dancer in the ladies' room at the Gold Coast. In the next, Carlip recounts the most unusual situation of her already bizarre existence: While she dates a soap-opera actress whose on-screen character is dying of leukemia, Hillary's own father is in a Santa Monica hospital dying of the same illness.
Carlip originally featured many of the Oddballs stories on Fresh Yarn, a personal-essay Web site that she created in 2004. With almost 200 contributing writers, the site features similarly wacky pieces inspired by the bouts and bruises that accompany life in Hollywood. However, Carlip occasionally chooses somber stories as featured selections, including essays on neonatal tragedies and struggles with Alzheimer's disease.
"With Oddballs, Hillary's managed j to help fuel the interest for personal essays," says Fresh Yarn contributor and humor columnist Alan Olifson. "And with Fresh Yarn, she's pulled off a truly impressive feat: creating a totally selfless piece of self-promotion."