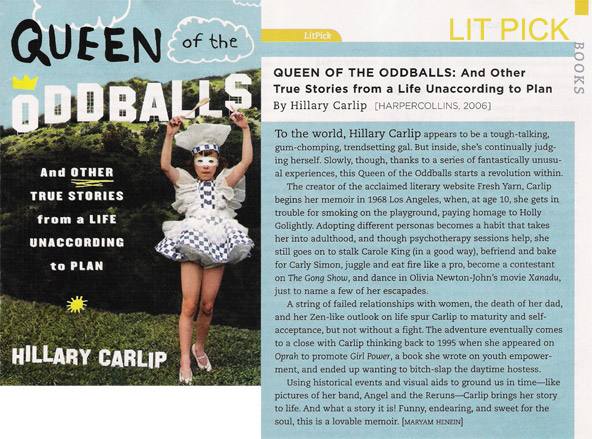 June/July 2006
By Maryam Henein
To the world, Hillary Carlip appears to be a tough-talking, gum-chomping, trendsetting gal. But inside, she's continually judging herself. Slowly, though, thanks to a series of fantastically unusual experiences, this Queen of the Oddballs starts a revolution within.
The creator of the acclaimed literary website Fresh Yarn, Carlip begins her memoir in 1968 Los Angeles, when, at age 10, she gets in trouble for smoking on the playground, paying homage to Holly Golightly. Adopting different personas becomes a habit that takes her into adulthood, and though psychotherapy sessions help, she still goes on to stalk Carole King (in a good way), befriend and bake for Carly Simon, juggle and eat fire like a pro, become a contestant on The Gong Show, and dance in Olivia Newton John's movie Xanadu, just to name a few of her escapades.
A string of failed relationships with women, the death of her dad, and her Zen-like outlook on life spur Carlip to maturity and self-acceptance, but not without a fight. The adventure eventually comes to a close with Carlip thinking back to 1995 when she appeared on Oprah to promote Girl Power, a book she wrote on youth empowerment, and ended up wanting to bitch-slap the daytime hostess.
Using historical events and visual aids to ground us in time -- like pictures of her band, Angel and the Reruns -- Carlip brings her story to life. And what a story it is! Funny, endearing, and sweet for the soul, this is a lovable memoir.